ALEXANDER SHAUMYAN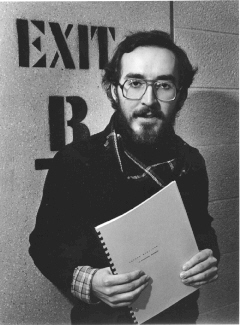 Alexander Shaumyan was born in Moscow, Russia, in 1962 and
immigrated to the US in 1975 at the age of 13. He started out
as a painter, but frustration with capitalism and sex deprivation
led him to drinking massive amounts of bourbon and writing raving
poems about corruption at all levels of American social and
political life. His verse has disturbed many an impressionable
young poet and outraged god-fearing citizens everywhere. In short,
he's alienated his friends, family, colleagues, and lost all sense of
proportionality. Following that restless urge for self-discovery,
he quit the boring PhD program in mathematics at the University of
Kentucky and began a thrilling, passionate life full of wonder,
mystery, adventure, and crimes of love. Right now he'd
probably be completely shitfaced at some sleazy establishment,
thinking of voluptuous American nymphs.
Thanks to all who've been reading my poetry. If this page is temporarily unavailable,
you can go to my redirecting link http://get.to/shaumyan.
Be sure to visit The Official Mary Prankster Website--this band rocks!
I finally published four books of poetry Spirit of Rebellion,
Canzoni dimenticate, Through the Eyes of Love,
and Place Where Light Is as 4 1/4" by 7" paperbacks.
These books have been reviewed by Laurel Johnson of Midwest Book Review
in November 2003 issue of MBR Bookwatch. You can also read my interview
in December 2003 issue . I've also just published my fifth book of poems,
short stories and essays. It's called What Is a Poet? and was reviewed in
February 2004 issue of Midwest Book Review.

Love,
Alex
SCROLL DOWN THE LIST OR SEARCH THIS SITE
(Most recent poems are at the bottom of the list)

LINKS TO OTHER INTERESTING SITES

Selected Poems
To Barbara
On a Certain Type of Poetry for Self-Actualizing Individuals with a Nervous Itch
The World is Full of Bastards
An Afterthought
To Anne Sexton
Pretty Girls Don't Take Hallucinogenic Substances, They Are
The Man Without a Goal
Mel Bought 100% Snow Tires
What Is Love?
Poetry Brothers
A Poet's Guide to New Haven
It Was A Long And Lonely Night
Hey You, Big Ape
O God, I Could Never Create...
For Ed G. Biro
A Spontaneous Idea for a Poem or How Is Your Soul?
Why Porcupines Eat Pork But Don't Eat Pine
Love and Fear
Touch
New World Order
Why do I Masturbate in Front of my TV Set?
College Days
November Song
Are You Experienced?
A Poet's Guide to World News
Some Thoughts on War and Human Ugliness
A Love Letter
As I Walk Through the Bookstores of Madness...
One Sunny Day I Dreamt...
Deborah, I Think You'll Understand...
Behind These Barricades
Our Selves, Our Graves
Donahue and Sally Jessy Don't Know Jack
A Ballad of a Local Poet
Our Minds Were Drifting...
The Spirit of Rebellion
Spring Break Revisited
Rape of a Poet
Why Johnny Can't Do Math
I Can Remember
For Kurt Cobain
What the Breeze Told Me
Reach Out and Touch the Void
Ode to Absurdity
A Double Murder in Los Angeles
America, Don't Work Too Hard
Hey Mr. Death
A Question
Apocalyptic Dream
Don't Go Quiet Into That Bar Tonight...
Beyond the Constellations of the Bears
My Theology
The Wind
Come, You Silly, Don't You Know...
Ode to the Sun
Period Doubling Route to Chaos
Ask Not What You Can Do for Your Country...
Je n'ai rien dans mon coeur ce soir
For Christy
Kentucky Girl
Darling, Because I'm Given to Extremes...
A Kick in the Balkans '99
Come on, pretty mama, let's go to Alabama
The Raven
To the Moon
O girl, you act so frisky...
Darling, I haved traveled here...
When Kurt Cobain Died
'Tis the Season to Be Shopping
Presidential Election 2000
He Held Her Close
Our Love
Take This Body (posted at AuthorsDen)
Razor-Sharp Love (posted at AuthorsDen)
In Memory of Paul Shanahan
I Love You (for Teresa)
Angel of Sobriety (New)
For Teresa (New)
A Man Can Only Do So Much (New)
I Dream of Teresa (New)
This Night (New)
Denne natten (in Norwegian)
Take This Pain and Let It Fly (New)
And Should I Say? (New)
An Acrostic (New)
The Song of Yes (New)
The World's Asleep (New)
Thinking of Math and Her (New)
When I Think of You (New)
Anyone Who Dares to Be, Can Never Be Weak (New)
For Natércia (New)
A Poet's Prayer (New)
A Beautiful Day (New)
Anarchy Is For Lovers (New)
The Old Equation (New)
She Storms My Brain (New)
Siren's Dance (New)
A Poet's View of the Peace Movement (Essay)
What Is Borderline Personality Disorder? (Article)
Jung-Myers-Briggs Personality Types (Article)
WHERE IT ALL BEGAN PICTURES MOON UNITS

I would also like to include three poems by the ever sexy Kim Clemente.
She is my friend and a poet from Boston, Massachusetts.
mailto:kclem7131@hotmail.com
THREE POEMS BY KIM CLEMENTE
Sinner
Jasmine Hill Gardens, Montgomery, Alabama
A Poem for the New Year
Here are four poems and a joke by my friend Michael Livshits--a mathematician and a writer of humorous verse--
who also lives in Boston, Massachusetts. Mike is originally from Leningrad, now known as St. Petersburg, Russia.
mailto:michaell@tiac.net
FOUR POEMS AND A JOKE BY MICHAEL LIVSHITS
All Things Considered
The Soliloquy of George Bush on 1/15/91
Mary had a piece of chalk
Can you take a deep breath?
A pep talk for our troops in Iraq (New)
A Joke
And I would also like to include two poems by the beautiful and passionate Alessandra Novelli from Naples, Italy.
I only met her briefly during her short stay in the United States. Although she spoke little English, she understood
exactly what I was trying to say through my poems and my paintings. Before she left, she gave me two poems,
which I kept and translated into English. I include these in their original Italian and in my English translation.
She told me that she never wrote any poetry before she met me.
TWO POEMS BY ALESSANDRA NOVELLI
Sono stata al mercato dei sogni...
I have been to the market of dreams...(translation)
"Agli adulti quand'erano bambini, ai bambini che sono romantici"
"To the grown-ups when they were children, and to the children who are romantic" (translation)
I would also like to add a satirical poem by Anthony J. Ciccariello III--my friend and a poet from Jackson, New Jersey.
He's in the process of putting together an online book of poetry and personal observations. Be sure to visit his site
Tales of the Borderline Piney.
A POEM BY A. J. CICCARIELLO III

View My Guestbook
Sign My Guestbook


My Artwork ~ My Links ~ Pictures ~ Moon Units

A Letter from Woody ~ Poems by Woody ~ Interview with Laurel Johnson